To apply for jobs or to upload your CV, please register your details
Responsibility
Capumen Executive Recruitment is committed to helping others and giving something back to both local communities and those who do good for our nation as a whole.....to this end we have recently contributed to a wonderfully innovative project at City University London as well as sponsoring a local youth football team.....
Father and daughter share their love for City
City University London has seen many generations of students coming through its doors and, in some cases, they have been family members. Vaseem Ahmed, BSc (Hons) Aeronautical Engineering (1989) and his daughter Naila, BSc Management (2014) share the love and commitment to City in different ways.


Studying at City: two generations aiming to be the best
Vaseem has great memories of his time at City including; playing cricket for the University's team, enjoying life at the Northampton Hall, and learning how to overcome adversity when having difficult times as a student.


He said: "I didn't have a great 2nd year and could easily have coasted along with an average degree result. However, I decided to really give it a go and, in my 3rd year, if I didn't understand a topic (there were many – have you tried Aerodynamics?) I would bug the class genius and lecturers until I did understand. The effort paid off and when I finished 2nd in our final year exams I was over the moon."


Vaseem told us how all those factors were important when advising his daughter, Naila, to follow her path at City; however, her decision to join Cass Business School was primarily driven by the excellent reputation of the School and she was also inspired by her father's tales of City.


Naila also talked passionately about her time at City and how her lecturers and tutors gave her the confidence to tackle her dissertation and advised her to think carefully about her future when leaving City. She said: "My dissertation tutor was amazing, she was extremely warm and friendly and very reassuring. She shared ideas and gave me tips that helped me to come up with the perfect dissertation. Other lecturers also encouraged me to do my best, and aim to get the maximum skills and experience for the real corporate world."


They would both recommend City to others because they think is a great place to study and people would benefit hugely from its facilities and the quality of its teaching.


Supporting City
Vaseem has helped City generously for a few years not only by sponsoring the Human Computer Interaction Department, as he thinks that facilitating the way we interact with technology is vital, but also by supporting the Olive Tree programme, which encourages young Palestinians and Israelis to build leadership skills.


He says: "There is, and has been, much doom and gloom for the prospects for a peaceful and lasting solution to the conflict in Palestine. The only workable solution is one based on justice and bringing together the younger generation. That can only be a positive move."


Naila not only agrees with her father about it, but also thinks that the best option for this conflict is to coexist. The Olive Tree programme is a small step in working towards that objective, not only by giving young students with great potential a chance of a bright future, but also an opportunity to put their energy elsewhere in a creative manner.


"The foundation can help change mind-sets, to focus on the similarities of their neighbouring communities rather than their differences and to actually view them as their neighbours rather than their enemies. Ultimately that is the only thing that will ever stop the conflict in the Middle East, especially the Israeli-Palestinian conflict." She says.


It's been 25 years since Vaseem graduated from City. He now works in the recruitment industry, running his own headhunting company, Capumen Executive Recruitment. Vaseem's best piece of advice for young graduates is to start looking for jobs early and treat each role as a career, not just as a job. Naila, on the other hand, is starting to apply for roles and is also thinking about doing a Postgraduate Certificate back at City.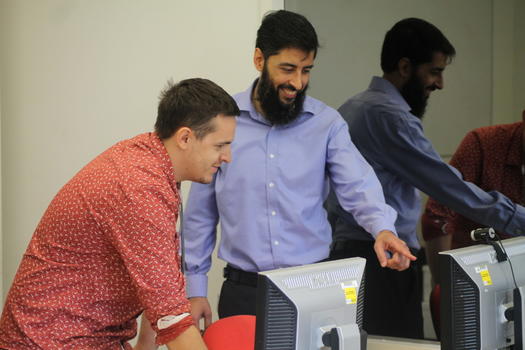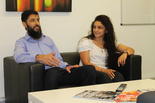 Capumen Commits to a Future in Technology & Innovation..


City University London receives a donation of equipment from Capumen Executive Recruitment for the Interaction Lab of the Centre for Human Computer Interaction (HCI) Design.


City University London has received a generous donation of equipment from Capumen Executive Recruitment to invest in tomorrow's technology talent.


The donation is of particular personal satisfaction to Capumen Executive Recruitment CEO, Vaseem Ahmed, who graduated with an aeronautical engineering degree from City. The connection to the University has continued with his daughter who is currently studying at Cass Business School.


Vaseem Ahmed explains:
"I have always stayed in touch with the University but I thought it was the right time to make an investment that provides additional technology in the HCI Design Interaction Lab to develop the talent on whom we will all rely in the future. This is just the start of what we hope will become a deep and lasting relationship with City, a leading higher education institution in the field of technology."

Anita Jethwa, Development Officer at City said:
"We would like to thank Vaseem and Capumen Executive Recruitment for their continued interest in City and particularly, this contribution to the HCI Design Interaction Lab. Our ongoing relationship ensures that we are well connected to leaders in the technology sector and to have a member of our Alumni such as Vaseem returning ensures a virtuous cycle of progress."


Asianos Football Club, London
Asianos Academy was established in 2005 by members of the existing Asianos FC men's team in order to provide kids in the London Borough of Waltham Forest and surrounding areas a chance to play football in a welcoming, safe, enjoyable and affordable environment.
The Academy exists to allow kids from any background, regardless of race, religion or ability to train and play competitive football in the East London and Essex (ELE) League. The essence of the academy is to ensure that each individual that joins the academy develops their football skills to the maximum potential and at the same time develops essential life skills such as teamwork, communication, discipline, self-respect and respect for others. The ultimate objective is that when kids leave the academy as young men at 16, not only do they play at the highest level possible from a footballing perspective but they are also equipped with the mindset make a positive contribution to society as role models for future generations and avoid the many negative aspects of inner city life that young people can be sucked into.
The Academy has numerous success stories with ex-players having moved on to represent professional and semi-professional football club academies including Norwich, Charlton, Reading and Tottenham Hotspur.
A fundamental building block which is critical to enable the Academy to provide this community service for low income families in a socially deprived part of London, is the financial support we receive from our sponsors that enables us to pay for kits, equipment etc. and reduce the contribution that is required from player's families to a low level. In this respect Capumen International Recruitment has provided much needed support since 2012 and enables us to buy kits for 2 teams that would otherwise need to be funded by the parents, they have also helped to keep the club running at low cost to players parents. This support from Capumen International Recruitment and other sponsors allows Asianos Academy to keep our fees lower than other peer clubs in the area and provides a place for kids to get off the streets and enjoy football in a safe, organised environment, for those that would not be able to afford the fees otherwise.
"Last season we reached the Cup Final with both our u14 and U15/16 teams and Capumen Executive Recruitment paid for new kits for the cup final, which allowed us to provide the boys with a brand new 'top of the range' kit for the finals and you could see how special they felt when they saw and put their new kits on. This made the cup final occasion even more special for kids, who might never play another final again. Without the support of the likes of Vaseem and Capumen Executive Recruitment, it would be very difficult for us to provide this much needed service for the community, so we are very grateful for this kind support" said Ajaz Rashid, Club Secretary.
VIDEO CASE STUDY
Candidate employed by Orange Labs
"Capumen was quite different to other agencies", "Very friendly and helpful and gave advice in interviewing techniques", "I would have no hesitation in recommending Capumen to other candidates".
Kashif Chaudhry - Orange Labs
"Capumen spent time understanding our organisation and the needs of our business", "It was so obvious their CEO has spent 20 years working in the TMT sectors", "We only needed 2 interviews before filling the role".